This ARK ACM tutorial  include
ACM commands
ARK ACM bulk import guide
Adding more Mods
ACM not working what to do 
ARK ACM originally stands for Admin Command menu but with some recent advancement and its success, it is now called Advanced command Menu. It is more convenience streamlined and advanced replacement of ARK's build in administration mechanism connected to the ShowMyAdminManager console command.
At this stage, ACM cannot reproduce every function or command using the built-in tool as many aspects of Admin command and management is handled exclusively by commands and inaccessible code/classes.
ARK survival evolved ACM is actually a helping tool but in practically it can be regarded as cheat tool in single player mode. Because its really simplifies the spawning of creatures and items in game and instant taming.
ARK ACM tutorial! How to use ARK ACM ?
ARK advanced command mode is not fully functional therefore you may encounter some problems using it. However developers are committed to bring everything online again.
In order employ ACM, activate the mode. After logging in to the sever or ARK game, apply the following commands
" admincheat ScriptCommand acm scan me "
ARK ACM commands
( ARK ACM code )
Following are the ARK ACM target target commands when using default keysettings.
Current Default Keybindings:
Toggle ACM: F1+ Shift 
Open UI: Right Mouse + Shift 
Use Target Command: Left Mouse + Shift 
Open Target Command Menu: Middle Mouse + Shift 
Command Structure:
NOTE: All commands start with the script below
" admincheat scriptcommand acm "
To use any command, enter the above script, then select any from the below ACM codes + further arguments.
ACM scan
me – look for permission and spawns ACM, bypass the temporary block.
toggle – removes ACM if present and temporarily blocks ACM from spawning until desired again.
all – see "me"; extended to all players around the globe. RCON accepted.
Example of ACM code .
"admincheat scriptcommand acm scan me".
ACM reset
bindings – reinstate bindings to default.
colours/colors – reinstate custom colors to default.
scalars – restores screen scaling options(and eventually tracking map scaling) to default.
all – resets all to default.
NOTE: All arguments "RCON accepted", if using RCON a second argument is required, SteamID accepted only at this time. Eg. Normal: "admincheat scriptcommand acm reset bindings".
mysettings
NOTE: No argument required, bypasses binding events and directly opens My Settings UI. Eg. "admincheat scriptcommand acm mysettings".
autogen
reset – will remove AutoGen data and restart  data generation.
remove – This command will remove AutoGen data.
debug – will process AutoGen data and return basic debug level data regarding internal structure and saved information.
NOTE 1: All arguments have a secondary data point. all & nothing(eg: empty) are have same effect. If the specific mod's class name is specified, then AutoGen will only target that relevant data and specific class. You can find the name in the mod folder in the  ARK install. For example. "admincheat scriptcommand acm autogen reset PrimalGameData_ACM".
NOTE 2: The autogen sub-command is only available to whitelisted/authorised admins and RCON.
Notes:
Admin command menu is not fully operation. So 100% working and perfection should not be expected.
Any bindings you set within ACM will concurrently trigger with whatever actions have been bound in your key-bind settings for ARK.
Target code will not will not fire equipped weapon because it requires requires additional work.  Due to not consuming input I recommend not to use it with weapons equipped.
If ACM is acting up, you can use the command admincheat scriptcommand acm scan toggle which will remove ACM from your system. If you follow up with the activation command, it will re-spawn ACM on your system.
ARK Bulk import guide 
ARK ACM guide
Here I must mention that i am not the producer of this mod. I am making this just to help the players in Importing Bulk data.
Before installation you must have admin Rights to use this mod. First Install this Mod through Workshop subscription.
ACM V2.6.8700
A Workshop Item for ARK: Survival Evolved
ACM V2.6.8700 ID: 558079412 Server Admins – Follow my twitter to be warned about updates.
How to open the UI in ARK ASM:
Spawn in the processor(shown below), place it in the world (only one will and can exist at a time) and if it goes well, the object will vanish with a green fringe. In case if it failed, it will turn red. After that every 2 to 5 minutes randomly, the hidden object will check all the players for ASM cheat permission. If a player is allowed, it will spawn a buff.
Note: In case if the processor fails to spawn, then may be one is already existing in the system. You might have not performed complete reinstall or you might have spawn already one in the world.
Activate/Deactivate ACM: Alt + ` | ~ OR Shift + F1
Open UI: Right Click + Alt  – provided ACM Must be activated.
Fire Target Command: Left Click + Alt – provided ACM Must be activated.
In order to quickly shuffle between different UIs, enter the following. Else you  can use the drop down at the left corner top.
1 – Spawning.
2 – Player & Tribe Management.
3 – Server Management.
4 – Tracking Map.
5 – ACM Configuration.
Spawning the ACM Processor:
The spawn  code is:
cheat giveitem "Blueprint'/Game/Mods/ACM/PrimalItemStructure_ACM_DS.PrimalItemStructure_ACM_DS'" 1 1 0
How to Bulk Import New Mods to ACM Mod
ark acm bulk import
Step 1:
Look for your Mod (Data) you want to Import
It can be found here :http://steamcommunity.com/workshop/filedetails/discussion/558079412/351660338680347364/
Choose (Open) the Mod data and select all text and copy.
Step 2:
After that enter your ARK game
In case you want to select more than one Mod, run the game in window mode (but not in full screen). It enables you to easily switch to each Mod Date to copy and paste.
Step 3:
Open the UI once you are in the game.
Open Advance Command Manager
The screen Should look like this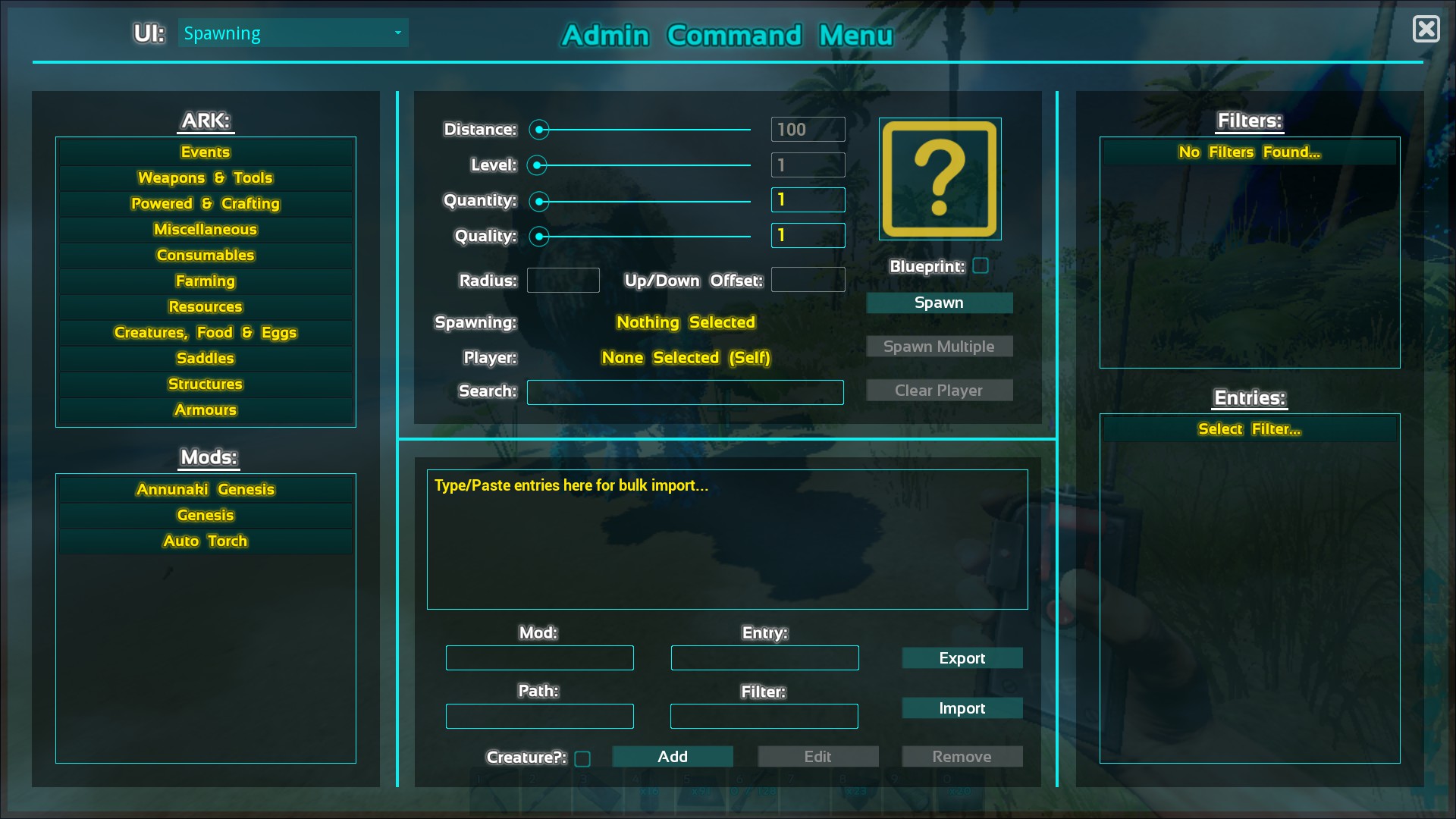 Then where it says Type/paste in window
delete all the text is in the window
Screen should be like this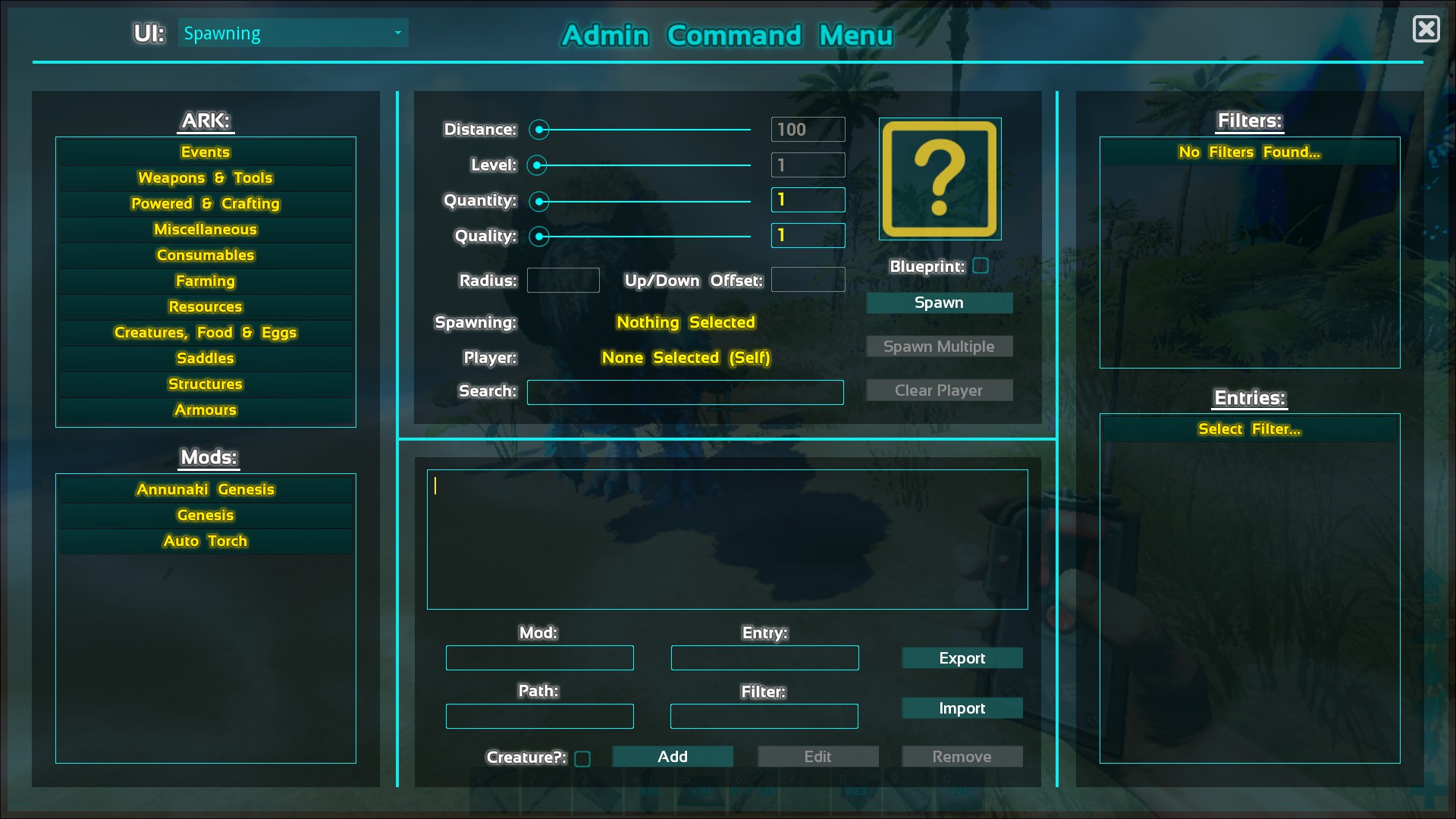 Hold CTRL key and press V to paste all data into the window.
After pasting data it should look like this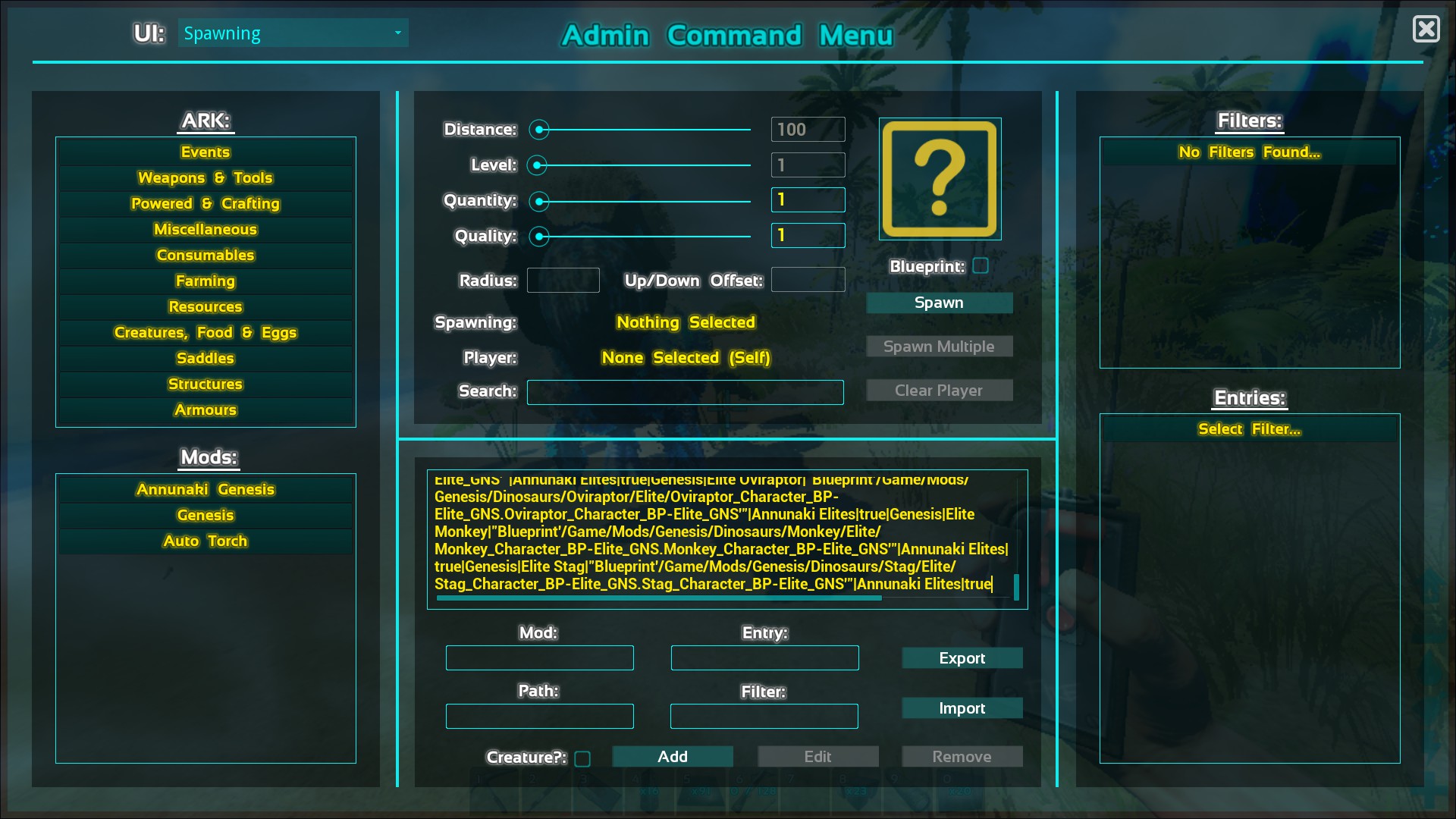 Then Press Import
This will add all the date your Admin command menu Mod.
All the added Mods should appear under the Mods on the left.
With this You are done.
Add more Mods to ACM ARK:
Now go back to windows and copy the next Mod Date. Then enter into the game screen again and Paste your date in the window via above stated method. You must ensure that all mode data has already been deleted. If you paste new date while there is anything left in the window, it will screw up.
Note:
Make sure data is copied and paste without any modifications.
The data has to be one continuous line without any extra lines, spaces or interruptions.
ARK ACM not working
If the ACM is not working for any reason try the following
Navigate to your …\Steam\steamapps\workshop\content\346110\ folder and delete the folder 558079412 . Similarly delete the same file and folder from the …\Steam\steamapps\common\ARK\ShooterGame\Content\Mods\ folder in your ARK client. After that unsubscribe and subscribe again.
Run the ARK client once more to get a clean download and install – In case of a server copy the new files over through whatever means you use for mod management.
If ACM ark still not working, execute a mode removal/install by mod deactivation starting the sever/game. Then connect and force a world save-in game and try to reactivate the game mod. Make sure latest files are being used.
Notes:
1: If you are in a single player or if on a server but without enabling admin Log to chat, it is most possible that you will not see any errors with commands. Most common type of error is a syntax error in which ACM thinks that a variable is missing.  Even if Admin command menu still not operational, try to enter command manually by hand rather than copy/paste or carefully check that command is entered correctly after pasting it.
2: It may be unwise to totally rely on Hosts automated Mod updating tools. Repeatedly it issues with mods has been observed and in conjunction with steam apparent issues lately, it is a recipe for disaster
It is unwise to solely rely on Hosts automated Mod updating tools, they have repeatedly been shown to cause issues with mods and that in conjunction with steams apparent issues lately is a recipe for disaster while diligence is key.
ARK ACM mod not working
This should work , if the admin set up a password u need it first
enablecheats true (password123)
then type
1.SetCheatPlayer true
2.SetCheatPlayer false
3.admincheat ScriptCommand acm scan me
4.admincheat ScriptCommand acm scan toggle